Development Workouts
Charlottesville, VA
Tuesdays 6:30-8:30
Charlottesville HS
(March - June)
Starting TBA
Lynchburg, VA
Tuesdays 6:30-8:30
Rustburg HS
(March - June)
Starting TBA
Richmond, VA
Tuesdays 6:30-8:30
Midlothian MS
(March - June)
Starting TBA
Rochester, NY
Tuesdays 6:30-8:30
TBA
(March - June)

Serious players in grades 6-11 are invited to attend. Workouts are free. Click here for directions.
Did You Know?
East Coast Fusion has already helped save players and their families over $10,200,000 in college expenses? Become the next player to earn a scholarship!


Fusion Takes U17 Hoop Group Southern Invitational Jam Fest

Hoop Group Social Media - Staff Report
May 9, 2011 - Championship Sunday produced a number of memorable games at the Southern JamFest. From the tip-off of the quarterfinal round games to the buzzer of the last championship game, the day produced nothing but memorable performances.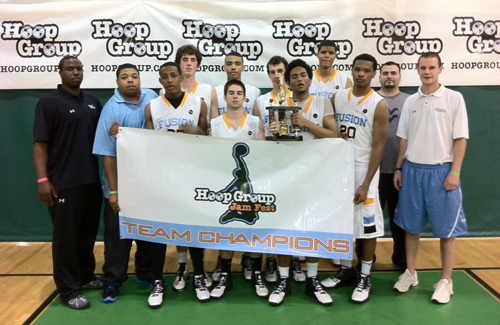 Playing for one spot in the title game were Team Takeover and East Coast Fusion. As the tournament progressed, it seemed that ECF got more and more comfortable playing together, and things were starting to click in this game, a 63 to 61 victory for Fusion.

Fusion put the ball and their trust in the hands of their point guard Jerome Hairston, who had a string of great performances over the weekend. The class of 2012 player scored 20 points in a very up-tempo game against Takeover.

On his performance, Hairston stated, "Once we lost Jordan [Burgess], I figured I had to go from passing mode to scoring mode. He does a lot of our hustle plays and he makes a lot happen for us underneath, so I figured I had to pick up some of his points." Burgess had been in foul trouble early in the game.

Hairston is hoping to sign in the early period, but he hasn't made a college decision just yet. He has offers from Liberty and James Madison and has also heard from South Carolina, UVA, Boston College, Yale, Navy and Colorado.

On how they would handle Team Russia in the championship game, Hairston said, "We're just going to try to get them to play to our game."

The 17U title game saw the Team Russia face some of its toughest opposition of the day in a game that energized and entertained the crowd. After building a small lead by halftime, it looked as if the Russians were about to settle in and run away with the game, but Fusion fought back to tie the game, and ultimately to win it 59 to 58.

Marshall Wood, a 6'7" forward, lead the team with a big second half performance, recording 16 points during the game. He was joined by Jerome Hairston and Chase Cannon, who scored 11 points, and by Wake Forest commit, Andre Washington, a 6'10" center, who scored 10 points.

Russia was again lead by Vlad Trushkin, who scored 13, as well as 2-guard, Gleb Goldyrev, who also had 13. Russia's point guard, Maxim Sakharov, scored 11 points and showed off a terrific handle and a few moves that helped him set up his teammates to make big plays throughout the game.

Neither team knows the meaning of the word quit. ECF fought their way back to tie the game up at 58 near the end of regulation. The Russians, however, matched each increase in intensity.

It was again a late foul that made the difference. ECF's Marshall Wood was fouled while grabbing a pass from his teammate. He went to the line for two free-throws. He made the first and missed the second on purpose.

With just seconds to get a shot off, Russia couldn't recover.

Fusion guard Daniel Ginsberg, a pass-first guard, noted that the Russians, "were big and fast, they all could shoot." He added that, "They were very physical, they have a lot of tricks that I guess they learn over there, that I had never seen before."

Ginsberg believed that Fusion's key to success was playing full court defense that threw off the Russian game and forced a few turnovers.

Teammate Chase Cannon added that, "they were crashing the boards pretty hard, and with them all being so big, it was tough to get a rebound from them." Despite the challenge of matching up, "We just all wanted to win it pretty badly. We'll remember this in July and we'll know we can do it and we can win the whole thing."

Cannon has heard from the coaching staffs at Princeton, Cornell, UNC-Asheville, Davidson and NC State, and he hopes that the East Coast Fusion's momentum will bring more attention from college coaches.