Development Workouts
Charlottesville, VA
Tuesdays 6:30-8:30
Charlottesville HS
(March - June)
Starting TBA
Lynchburg, VA
Tuesdays 6:30-8:30
Rustburg HS
(March - June)
Starting TBA
Richmond, VA
Tuesdays 6:30-8:30
Midlothian MS
(March - June)
Starting TBA
Rochester, NY
Tuesdays 6:30-8:30
TBA
(March - June)

Serious players in grades 6-11 are invited to attend. Workouts are free. Click here for directions.
Did You Know?
East Coast Fusion has already helped save players and their families over $10,200,000 in college expenses? Become the next player to earn a scholarship!

Two days later: "Good Lord! That's Ben Dickinson's music!"

One-Bid Wonders - Matt Whitrock
November 14, 2011 - One game is a small sample size. An otherwise mediocre player can blow up in a single game, but sustaining a high level of performance over an extended period of time is more indicative of actual quality. For that reason, we generally refrain from making extreme proclamations based on 40 minutes of basketball.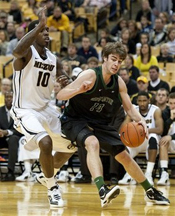 That being said, there are exceptions to every rule. Here is one such exception: Ben Dickinson is The Truth. (Yes, that's already Paul Pierce's nickname, but nothing about periodically collapsing on the court like you got shot, only to return to the game five minutes later, qualifies a player to be nicknamed "The Truth," so we're stripping Pierce of his nickname.)

Let's start with the numbers. If you haven't already heard, Ben Dickinson broke Binghamton's freshman scoring record in his first game by scoring 27 points on 7-of-13 shooting from the field and 11-of-14 shooting from the charity stripe; the freshman record was previously held by Dylan Talley. Eighteen of those 27 points came after halftime as the Bearcats tried to dig out of a hole that grew to 18 points shortly after the break.

Dickinson also added seven rebounds (including six offensive rebounds, which led all players), two assists, and three steals. He did all this while staying out of foul trouble - his third foul came with just 35 seconds remaining - which allowed him to play effective defense and stay on the court for 38 minutes.

The above stat line would be extremely impressive for any player, let alone a freshman in his first Division-I action. It also sells Dickinson short.

There's plenty to say about Dickinson on the offensive side, but let's start with his defensive performance and save the best for last. Any observer would likely agree that Dickinson's offensive game is ahead of his defensive game right now. Part of that is just due to physical limitations. While Dickinson is certainly tall enough to defend in the post, he's extremely lean - I don't know if I'd call him scrawny, but while he's a willing defender I'd say he needs to add about 20 pounds to help him against stronger interior players. Colgate didn't try to post up on Dickinson very much, in part because various Bearcat miscues left Colgate with open shot opportunities as long as the Raiders didn't turn the ball over first, but teams are going to see Dickinson's frame and try to go right at him.

That, by the way, is pretty much the only negative thing I have to say about Dickinson. For a freshman, he's surprisingly alert and active on the defensive end. Those three steals weren't a product of balls being dribbled off Colgate players' shoes - they were created by active hands and quick reactions to Raider passes. And while Dickinson wasn't particularly active on the defensive glass, he wasn't letting his man grab extra rebounds: Binghamton did a good job rebounding Colgate misses, grabbing 23 out of 30 available balls.

Now for the offensive half of the equation. It's tough to put into words how polished Dickinson's offensive game is already. First things first: the dude can shoot the rock. He's confident in his shot and it shows. I'm not an expert on how to shoot the basketball by any means, but after watching who-knows-how-many AE bigs try their hand at the 3-ball, Dickinson's stroke is something of a revelation.

That's only part of Dickinson's game though. When's the last time you saw a finesse big attempt 14 free throws? Some of those attempts were a product of doing work in the post, establishing good position and then making a move with the ball. Others were a product of that court awareness, the same awareness that allowed Dickinson to pull down six offensive rebounds. Several times Dickinson put him in position to not only grab a rebound, but also make an immediate move towards the basket, either converting or drawing a foul.

This might sound strange to say, but the aspect of Dickinson's game I found to be most impressive was his ability as a passer. Yes, he was only credited with two assists, but those two assists produced arguably the two easiest baskets Binghamton would score all game, breakaways included (the Bearcats recorded 12 steals but converting those steals into transition baskets proved to be an adventure at times).

Dickinson found fellow freshman Jabrille Williams for the Bearcats' only dunk of the game with 1:32 remaining in the first half. Then in the second half, Dickinson delivered a bounce pass from the top of the key to find Mansell cutting toward the paint for an uncontested layup. The latter pass impressed me more, not because of the degree of difficulty, but because of the nature of the play: Dickinson, in a stationary position at the top of the key, threading the ball through defenders to hit Mansell in stride. This was not a broken play - the implication is that head coach Mark Macon can trust a freshman big to make a pass that requires a not-insignificant degree of touch and precision.

Talking about Dickinson after the game, Jimmy Gray said, "I'm not impressed." He went on to elaborate by explaining that he doesn't look at Dickinson like a freshman and that he expects his teammate to perform at this level.

Well, I am not Jimmy Gray. I'm already impressed. I can't wait to see what Dickinson will be able to do after a year of benefiting from a Division-I strength and conditioning program. Even if he doesn't improve at all, Dickinson might already be the best big man Binghamton has seen since Nick Billings. Sure, call him a finesse big if you want, but in one game Dickinson has already demonstrated proficiency - that's an understatement - at every skill you want in a 'finesse' big. Couple him with a potential breakout year from Mansell and reasonable contributions from the rest of the roster, and suddenly the Bearcats present some real danger for AE opponents.

I spent my drive out to Vestal questioning whether any aspect of Saturday's game would be good enough to justify the trip. Two days later, there's at least one reason to go back.