Development Workouts
Charlottesville, VA
Tuesdays 6:30-8:30
Charlottesville HS
(March - June)
Starting TBA
Lynchburg, VA
Tuesdays 6:30-8:30
Rustburg HS
(March - June)
Starting TBA
Richmond, VA
Tuesdays 6:30-8:30
Midlothian MS
(March - June)
Starting TBA
Rochester, NY
Tuesdays 6:30-8:30
TBA
(March - June)

Serious players in grades 6-11 are invited to attend. Workouts are free. Click here for directions.
Did You Know?
East Coast Fusion has already helped save players and their families over $10,200,000 in college expenses? Become the next player to earn a scholarship!


Prep basketball teammates commit to UIC

ESPN Chicago, by Scott Powers
October 3, 2011 - Fishburne Military Academy (Va.) Class of 2012 recruits Matt Gorski and Jake Wiegand committed to Illinois-Chicago on Monday.

Gorski, a 7-foot, 245-pound center, and Wiegand, a 6-8, 230-pound power forward, did not plan to commit to the same school or on the same day. It just happened that way on Monday.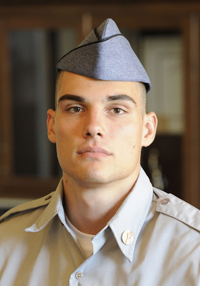 "I found out he committed at practice today," said Wiegand, who also considered The Citadel and IUPUI. "I committed right before practice at 12 p.m. It's pretty much a coincidence."

Gorski was excited to have Wiegand as a teammate for this season and then four more.

"I would never choose another person to actually attend college with me," said Gorski, who also considered Hofstra and UAB. "He's a great player all around. I'm a great player all around. We're going to bring great attributes to Chicago. We're going to Chicago thinking we're going to win a NCAA tournament and try to play professional ball afterward. We're going to push each other every day."

Gorski and Wiegand are the second and third Fishburne Military Academy recruits for UIC coach Howard Moore. He also landed freshman center Will Simonton from the prep school last season. UIC assistant coach Donnie Kirksey was the lead recruiter on the pair of Class of 2012 recruits.

"Donnie and Howard are outworking people," Fishburne Military Academy coach Ed Huckaby said. "That's all I can say."

Huckaby said both players are versatile big men who can play inside or out.

"They play defense, rebound and really bring some toughness," Huckaby said. "They're both put-together guys. You're looking at guys that are the type [that] Butler [does it with]. They're of the Matt Howard mold. I think they're two good additions to UIC."

The two players are also good friends and know each other's game on the court.

"Me and Matt have a lot of chemistry," Wiegand said. "We have great chemistry."

UIC now has three Class of 2012 recruits. Whitney Young guard Gabriel Snider is also committed to the Flames.