Development Workouts
Charlottesville, VA
Tuesdays 6:30-8:30
Charlottesville HS
(March - June)
Starting TBA
Lynchburg, VA
Tuesdays 6:30-8:30
Rustburg HS
(March - June)
Starting TBA
Richmond, VA
Tuesdays 6:30-8:30
Midlothian MS
(March - June)
Starting TBA
Rochester, NY
Tuesdays 6:30-8:30
TBA
(March - June)

Serious players in grades 6-11 are invited to attend. Workouts are free. Click here for directions.
Did You Know?
East Coast Fusion has already helped save players and their families over $10,200,000 in college expenses? Become the next player to earn a scholarship!


Plan is coming together for Jerome Hairston

CBS Sportsline Blog, Eye On Recruiting - Jeff Borzello
August 4, 2011 - Jerome Hairston moved from Wyoming to Virginia to increase his national exposure and possibly get to a high-major school.

The plan has worked so far - just ask his cousin, former Wake Forest star and current NBA player, James Johnson.

"He said, 'it's crazy - you're just as good as the guys you've seen on YouTube and stuff. And now you're one of them,'" Hairston said.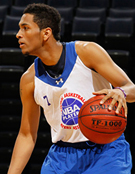 "We didn't think we were as good as some of these other guys," he added.

Hairston is a 6-foot-3 point guard who will attend Christ School (N.C.) next season. His stock has risen tremendously since the beginning of the AAU season in the spring.

"It really started at the Southern Invitational. Since then, I was invited to the NBA Top 100 Camp, the CP3 point guard camp," Hairston said. "Dave Telep told me, if you're a winner, your stock increases. No matter how you look, winning is the most important."

He has certainly taken that to heart, leading his East Coast Fusion team to a U-17 title at the Southern Jam Fest in April, and helping them stay competitive during tournaments in North Carolina, Indianapolis and Orlando.

Hairston is extremely quick off the dribble, using his speed and strength to get into the lane and finish in traffic. He is very difficult to keep out of the lane, but he also a good enough to shooter from behind the arc to keep defenders honest.

"I think [coaches] love the fact that I'm a big point guard," Hairston said. "I can also score and pass. Any game, I can have zero points and 12 assists, or I can put 30 down. I can also really guard, do what I can do on defense."

Hairston's recruitment continues to pick up across the board, as Colorado, Georgia Tech, Clemson, South Carolina, UNC-Asheville, Wyoming, Marshall, George Washington and Niagara are all pursuing him.

He said Colorado, Georgia Tech and UNC-Asheville are on him the hardest, and he has trip planned to Asheville since it will be close to Christ School.

There's no rush to make a decision, though.

"I'm going to wait and take visits," Hairston said.