Development Workouts
Charlottesville, VA
Tuesdays 6:30-8:30
Charlottesville HS
(March - June)
Starting TBA
Lynchburg, VA
Tuesdays 6:30-8:30
Rustburg HS
(March - June)
Starting TBA
Richmond, VA
Tuesdays 6:30-8:30
Midlothian MS
(March - June)
Starting TBA
Rochester, NY
Tuesdays 6:30-8:30
TBA
(March - June)

Serious players in grades 6-11 are invited to attend. Workouts are free. Click here for directions.
Did You Know?
East Coast Fusion has already helped save players and their families over $10,200,000 in college expenses? Become the next player to earn a scholarship!


Hairston is a big get for Towson

Scout.com, by Evan Daniels
October 5, 2011 - Towson has it rolling on the recruiting trail. Last week they scored a commitment from Jerome Hairston.

Jerome Hairston surprised many by picking Towson last week.

But the talented guard that put together a strong effort over the summer at the NBA Players Association camp in June, said he wanted to be apart of building Towson's program.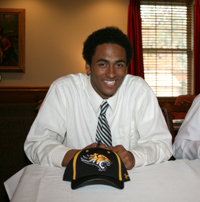 "My dad has a always taught me that If I believe in myself I can make any program better," Hairston told Scout.com. "I just feel like coach [Pat] Skerry had the same vision as me and we would love to build something."

Hairston, who transferred to Arden (N.C.) Christ School for his senior year, also strongly considered Colorado, Marshall and LaSalle.

Towson stood out because of Skerry's persistence and the relationship they built.

"I actually took a visit there and I really got a chance to get to know coach Skerry," he said. "They were recruiting me before the visit and they were sacrificing a lot of time and coming to see me and calling me."

"They just came off as real genuine guys," he added. "Coach Skerry was probably the first coach to not only tell me what I was doing right, but also what I was doing wrong. That meant a lot to me."

With Hairston's commitment and T.J. Parker's recent pledge, Towson now has four commitment. The two joins Frank Mason and Barrington Alston to make up their current 2012 class.