Development Workouts
Charlottesville, VA
Tuesdays 6:30-8:30
Charlottesville HS
(March - June)
Starting TBA
Lynchburg, VA
Tuesdays 6:30-8:30
Rustburg HS
(March - June)
Starting TBA
Richmond, VA
Tuesdays 6:30-8:30
Midlothian MS
(March - June)
Starting TBA
Rochester, NY
Tuesdays 6:30-8:30
TBA
(March - June)

Serious players in grades 6-11 are invited to attend. Workouts are free. Click here for directions.
Did You Know?
East Coast Fusion has already helped save players and their families over $10,200,000 in college expenses? Become the next player to earn a scholarship!
Labanowski Named an Academic All-American

February 21, 2011 - As a three-point shooter for the men's basketball team at the University of Rochester, Mike Labanowski has done an admirable job of "filling it up". The nomenclature describes his ability to put the ball in the basket.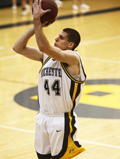 Academically, Labanowski has done an admirable job of "filling it up" as well and he has been rewarded appropriately. The senior guard has been named to the Capital One Academic All-America Men's Basketball Team in voting done by the College Sports Information Directors of America.

Labanowski is the sixth Rochester men's basketball player to earn Academic All-America honors from CoSIDA. He is the first player to accomplish the feat since Seth Hauben in 2004-05. Labanowski is a resident of Rochester, NY and an alumnus of McQuaid Jesuit High School.

He is a Second Team Capital One Academic All-American in the College Division. CoSIDA selects 15 players in both the College and University Divisions for men and women. The top five vote-getters earn First Team accolades, the next five Second Team, and the last five Third Team. Due to a tie in the voting this year, there were six named to the First Team, four to the Second Team, five to the Third Team.

Rochester is enjoying one of its finest seasons. The Yellowjackets are 20-4 overall, 12-1 in the University Athletic Association. They have clinched the UAA championship and an automatic bid to the NCAA Division III playoffs. Rochester plays its regular season finale this Saturday at Emory University in Atlanta.

Labanowski is averaging 10.8 ppg., gets 2.6 rpg., has 30 assists, and 24 steals. He is fourth in scoring average. He is shooting 47.2% from the field, 45.6 % from three-point range (68-149). Individually, he is ranked 14th in Division III in three-point field goal percentage. As a team, Rochester is ranked third in overall field goal percentage (51.3%) and first in three-point field goal percentage (45.1%).

In the season opener this year, Labanowski tied the Rochester single-game record by sinking eight three-pointers in an 81-52 victory over St. Lawrence. The 24 points were a career high. He played in two record-breaking team performances. Rochester hit 33 of 45 from the floor for a school-record 73.3% on November 27 in an 83-67 victory over Pitt-Bradford. Labanowski hit four of five field goal attempts, three of four outside the arc (all five starters hit double figures). On January 4, the Yellowjackets hit a single-game record 17 three-pointers in an 88-52 win over RIT. Labanowski hit five of six outside the arc.

Labanowski is majoring in Mechanical Engineering with a minor in Environmental Engineering. He carries a cumulative 3.86 grade point average. Over the summer, he interned at the Ginna Nuclear Power Plant as part of a nuclear engineering mechanical design team. He designed a piping system and drainage system for the plant. In the fall, he was named as a Lysle "Spike" Garnish Scholar as one of the top 10 senior scholar-athletes.