Development Workouts
Charlottesville, VA
Tuesdays 6:30-8:30
Charlottesville HS
(March - June)
Starting TBA
Lynchburg, VA
Tuesdays 6:30-8:30
Rustburg HS
(March - June)
Starting TBA
Richmond, VA
Tuesdays 6:30-8:30
Midlothian MS
(March - June)
Starting TBA
Rochester, NY
Tuesdays 6:30-8:30
TBA
(March - June)

Serious players in grades 6-11 are invited to attend. Workouts are free. Click here for directions.
Did You Know?
East Coast Fusion has already helped save players and their families over $10,200,000 in college expenses? Become the next player to earn a scholarship!


Rustburg senior headed to Va. Tech is a shooting star

The Roanoke Times, by Mark Berman
February 14, 2012 - Going from the Seminole District to the ACC seems like a daunting jump.

Marshall Wood is confident he can make the leap.

The senior forward has been a dominant force this season, averaging 24 points, 12.7 rebounds and 3.2 blocks for the Rustburg High School boys basketball team.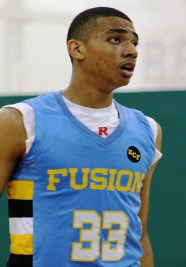 Next season, he will be a Hokie.

The Virginia Tech signee said he gets excited every day when he thinks about playing in the ACC.

"There's definitely going to be a learning curve, but I'm up for the challenge," he said. "I'm definitely ready to go up there and prove myself and get playing time."

Wood's outside shooting touch could help him make that transition.

Although he plays power forward for Rustburg, the 6-foot-8, 210-pound Wood said he scores most of his points on the wing. He is shooting 39 percent from 3-point range (36-of-93) this season.

He expects to play both small forward and power forward at Tech.

The Hokies "really need some guys that can shoot it, and I think that's one thing he can bring to the table," Rustburg coach -Brantley Shields said. "He can shoot the ball. He'll cause some matchup problems."

Athletic family

As a child, Wood began playing golf before he picked up basketball. His paternal grandfather, father and uncle were adept at both sports.

But basketball soon became Wood's passion. His father, Victor, a retired teacher, also played basketball for Rustburg. He used to be Wood's rec-league coach.

"He used to beat me a lot, so that made me mad," Wood said with a grin. "I kept working on my game, working on my game."

Wood's uncle, Lincoln Wood, also played basketball for Rustburg. He went on to play linebacker at James Madison in the 1980s. He was a JMU teammate of Gary Clark and Charles Haley.

Wood scored 49 points in a 73-49 win at Liberty High School on Dec. 12, breaking his uncle's single-game record of 43 points. Wood has scored 480 points this year, breaking the Rustburg single-season record also set by his uncle.

"He's the best athlete in the family," Lincoln Wood said with a laugh. "He's worked hard."

Wood was 17-of-25 from the field in his 49-point game, including 7-of-8 from 3-point range. He was 8-of-10 from the free-throw line. He also grabbed 15 rebounds.

He had a triple-double against E.C. Glass last week with 31 points, 12 rebounds and 10 blocks.

How will he get his points in college?

"I'm a really good shooter, so definitely on the perimeter," Wood said. "But if I get a smaller guy on me, I'll definitely be able to post him up."

Blacksburg-bound

Wood orally committed to Tech in October and signed with the Hokies the following month. He said he picked Tech over Virginia Commonwealth and Richmond.

"The ACC was definitely a big attraction," said Wood, who has scored 1,303 points in his four-year varsity career. "I just really liked the atmosphere at Virginia Tech. It's kind of down to earth. I just felt the most comfortable at Virginia Tech."

He said he also reaped offers from Virginia, Michigan, Clemson, Wake Forest, St. Joseph's, Duquesne, Old Dominion, James Madison, Liberty, and William and Mary.

Tech coach Seth Greenberg said he learned of Wood when he spoke at a Lynchburg Sports Club banquet. A number of high school coaches recommended Wood.

So Tech coaches scouted Wood last year at Rustburg and when he played for his Charlottesville-based AAU team.

"He's long. He's got bounce. He can shoot," Greenberg said. "He's got a very, very quick jumper."

Wood is Greenberg's fourth signee who has played in a Timesland-area district.

Lewis Witcher starred at Western Valley District member Franklin County before playing for the Hokies' 2007 NCAA tournament team. Ben Boggs played for Hidden Valley in the River Ridge District before joining the Hokies; he now plays for Valparaiso. Current Hokie C.J. Barksdale was a junior at Western Valley District member George Washington when he orally committed to Tech; he signed with Tech as a senior at Hargrave Military Academy.

Wood said that playing for East Coast Fusion - Boggs' former AAU team - left him confident that he could make the jump to big-time college basketball.

"I was playing against some really good competition during the summer, so I kind of know how I stack up," he said.

Wood has an older brother, but he also considers Tech quarterback Logan Thomas - a former standout at Seminole District member Brookville - to be a big brother of sorts. They text each other almost every day, and Wood has visited Thomas at Tech.

Thomas calls him "Slink," for his long, Slinky-like arms. Wood grabbed 21 rebounds in a game against Amherst County this season.

Wood averaged 19.5 points, 10.7 rebounds and 2.5 blocks last season but is doing even better this season.

"I've gotten a lot stronger, a lot quicker, a lot more agile," he said. "My game's just evolved, and it just keeps getting better and better as I work harder and harder."

Shields, whose Red Devils (15-5, 9-3) have received a bye into Wednesday's district semifinals, said Wood has become a more cerebral player.

"He's done a great job at reading defenses and passing out of double teams," Shields said. "He's always had a nice jump shot, but he's really improved his interior game."

Wood will need to add some heft to hold his own inside at Virginia Tech, but Greenberg isn't worried.

"He's got to get stronger, but he's the type of guy that we've been able to get and develop and win with," Greenberg said.