Development Workouts
Charlottesville, VA
Tuesdays 6:30-8:30
Charlottesville HS
(March - June)
Starting TBA
Lynchburg, VA
Tuesdays 6:30-8:30
Rustburg HS
(March - June)
Starting TBA
Richmond, VA
Tuesdays 6:30-8:30
Midlothian MS
(March - June)
Starting TBA
Rochester, NY
Tuesdays 6:30-8:30
TBA
(March - June)

Serious players in grades 6-11 are invited to attend. Workouts are free. Click here for directions.
Did You Know?
East Coast Fusion has already helped save players and their families over $10,200,000 in college expenses? Become the next player to earn a scholarship!


Hoop Dreams come true for Brockport's Ryan Hage

Genesee Valley Penny Saver - Bob Iveson
November 7, 2011 - Most of us have had a dream to be a sports hero - the soccer goal that wins it. Catching a touchdown pass to win the game. Hitting the game-winning bucket at the buzzer. Playing on a major college team. Some such dreams are achievable. Hard work is a way to achieve your goal. Hard work is a way to realize your dreams, and make them come true.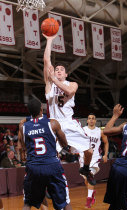 Ryan Hage was a hard-working point guard on Brockport High School's basketball team a few years back. Son of Brockport Coach Charley Hage, and a gym rat for as long as he can remember, Ryan attended a walk-on tryout for Division I Fordham University's basketball team.

He made the team!

Continued hard work earned the spot on the team and more playing time, and now, as a senior, he is Captain of the Rams' basketball team. He earned a full scholarship in the process.

Fordham will face fearsome Syracuse in the season opener in the dome Nov. 12. Brockport High School boys' basketball team will be at the game in full support. Three busses and over 130 fans will be making the trip to support Ryan and his team.

"Ryan is a role model for all student athletes, especially the athletes in our basketball program," says Brockport Basketball coach Scott Schleede. "His work ethic and desire to improve are second to none. I have had the pleasure of watching Ryan grow from a young boy, with a ball in his hands on the sideline; to the player he is today. You could tell early on that when Ryan set a goal he would not stop until he reached it. There is tremendous excitement in the community about the opportunity to see Ryan and his teammates play against Syracuse"

Ryan's tale is a basketball version of the story of "Rudy", the Notre Dame walk-on who made the team.

Ryan's transition from the high school game wasn't easy. "It's a different world. Everyone is quicker, faster, and stronger. I had to show the coaches I was committed and willing to work harder than anyone else on the team.

I tried not only to work the hardest but to maintain the best attitude. I think my work ethic and attitude earned me the coach's trust and my scholarship and captaincy of the team."

Ryan spent his summers working hard in the weight room with Brockport High School's Athletic Trainer, Jason Wentworth. "If you've ever talked to Ryan you know he is a high energy type of guy. And that's the approach he took to sports performance - high energy. He brought it every single day, with every sprint, every lift." Wentworth says. Ryan once told me "if I'm not getting better, I'm getting worse." "It makes my job easy working with a kid who is that motivated. I wish we had 10 of Ryan on every team. His intensity and enthusiasm makes everyone around him better."

"We're very proud of him," said his mother, Diane Hage. "The scholarship is wonderful.

It's a tribute to his character and work ethic."

Asked to describe what it's like to be on the team, Ryan responded:

"It's a dream come true. I get to travel everywhere and play against McDonalds All-Americans. I've been from California to Miami for tournaments. I get to play in the majority of games. The biggest difference from high school is skill and athleticism, plus the time commitment. It's a year-round sport, up to 40 hours a week in season.'

"I made my dream come true by working harder than anyone else on the court. I picked up every player full-court on defense and I won every sprint. I was given the nickname "Happy" because of my great attitude. I always did what the coaches told me."

"Playing at Brockport helped to prepare me. I had a great coach. He taught me to play with no hesitation and have a very short memory when shooting the ball. I played with a great group of kids and we played tough competition. I credit my coach. He taught me everything I know about the game, a big reason for my success."

Ryan's high school coach, who happens to be his dad, Charley Hage, is rightfully proud of his son: "We are very proud of Ryan. Hard work and determination almost always leads to success. His love of the game - since second grade - and his work ethic - helped him realize his dream. Ryan's a leader, and he leads by example. He is a great example for our kids currently in the basketball program."

The Hage family has much to be proud of. Ryan's twin sister, Lindsay, is playing college basketball at Union College. Ryan and Lindsay have loved basketball since they were old enough to hold a ball. Lindsay has played point guard for union College for the past three years, and started in her junior year. She had a game high of 17 points vs. William Smith tallying 4 rebounds that game as well as going 4 for 4 from the 3 point line, helping her team pull out the win in double overtime. Against D'Youville she tallied 7 assists. Lindsay has gone 22 for 22 from the foul line since Feb. 6 of last season.

Ryan's advice for all the young basketball players is: "If you have a dream, no matter what it is, go for it. No one thought I could make it on a D-1 team, let alone become the team captain. Work hard and you can do whatever you want in life"

Ryan's best college experiences include the travel and playing teams like Villanova and Xavier. The win over St Johns last year was a highlight. "Everyone stormed the court after."

Ryan's home town credentials included National Honor Society and Student Council. His athletic credentials were all-county and playing in the senior all-star game.

His college accomplishments include earning that full athletic scholarship and being named team captain. Academically Ryan carries a 3.5+ grade point average.

Ryan Hage is a great example for our young people. His future plans include getting a job in finance somewhere and eventually becoming a high school basketball coach.