Development Workouts
Charlottesville, VA
Tuesdays 6:30-8:30
Charlottesville HS
(March - June)
Starting TBA
Lynchburg, VA
Tuesdays 6:30-8:30
Rustburg HS
(March - June)
Starting TBA
Richmond, VA
Tuesdays 6:30-8:30
Midlothian MS
(March - June)
Starting TBA
Rochester, NY
Tuesdays 6:30-8:30
TBA
(March - June)

Serious players in grades 6-11 are invited to attend. Workouts are free. Click here for directions.
Did You Know?
East Coast Fusion has already helped save players and their families over $10,200,000 in college expenses? Become the next player to earn a scholarship!


EA's Stan Wier verbally commits to UB hoops

Buffalo News, by Keith McShea
August 13, 2011 - Basketball standout Stan Wier has verbally committed to the University at Buffalo.

The East Aurora senior-to-be emailed me and said he picked UB's offer over those from The Citadel, Princeton, Cornell, Rhode Island and Colgate. Wier said more offers have come in since he turned heads playing on the AAU circuit this summer.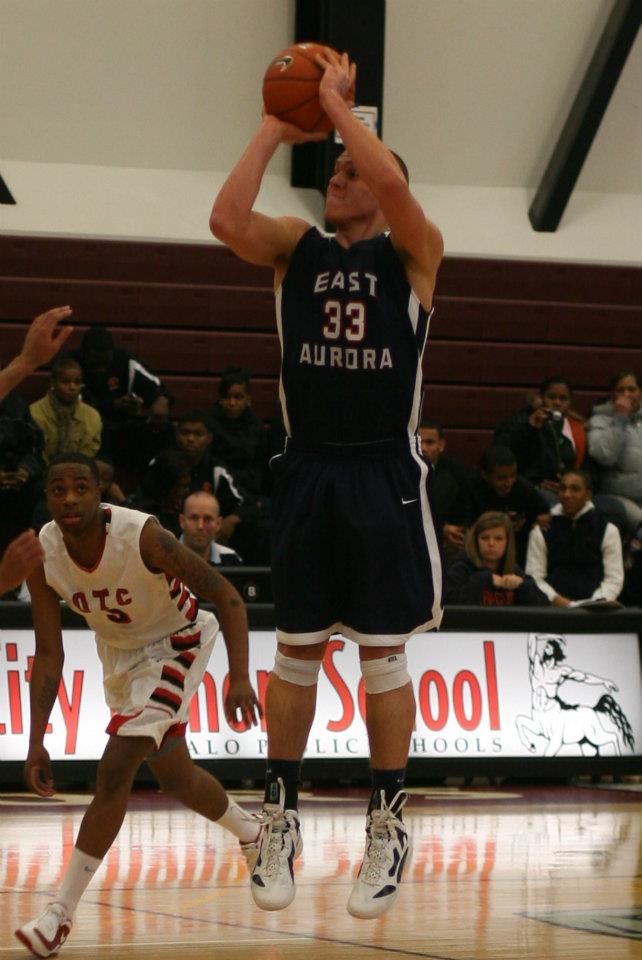 "It feels absolutely unbelievable -- to grow up in Western New York, play here, win a Federation title and then be blessed with the opportunity to play for your hometown college on such a great team," said Wier, who said he also worked out with St. Bonaventure. "After a few visits with the coaches and players everything felt perfect.

"Several calls and offers had come in since the Nationals and I had made a lot of visits in July ... but nothing felt as good as everything UB has to offer. UB has a great squad and I believe the City of Buffalo is in for a big surprise and treat over the next few years."

Wier has had a well-traveled and impressive high school career that has come full circle. He was an All-Western New York honorable mention with East Aurora as a freshman; he was a second-team All-WNY pick in helping Nichols to the state Federation championship as a sophomore; last year he played with and against top talent at Indiana private school La Lumiere; this fall he makes his return to East Aurora.

Next year, he'll be at UB -- where he'll meet up with former Nichols teammate Will Regan, who is sitting out the upcoming season at UB following his transfer from Virginia after playing there as a freshman.

"I'm excited to reunite with my former teammate," said Wier. "Virginia must have been a great learning/growing experience for him and I can only wait to see how much he has improved."

Wier was listed at 6-foot-3, 215 pounds on La Lumiere's maxpreps.com page. He is an obviously well-built shooting guard who has outstanding range. His outside shooting was a devastating factor in Nichols' run to the Federation title and I think it's very worthy of a Division I program (I thought that after his sophomore year). He also displayed some fine one-on-one defense and great competitiveness for Nichols during that championship season.

"It feels good to have this process complete," Wier said. "Over the years, I have made decisions that I hoped would make me a better basketball player. It wasn't always easy leaving the new friends I made each year but playing for UB makes all the hard work and sacrifice worth it.

"I get the privilege to play for Coach Witherspoon and before that I am excited to play my senior year with my brother Cam and my friends at East Aurora. Coach [Chris] Koselny is demanding that all the players commit to being successful and EA is on the rise. All of us are working hard to get better. I went to the Buff State [Section VI championship week] games last year and remembered how exciting it was to play there with my older brother Thad [when Stan was a freshman]. I really hope Cam and I can share the same memories."

Wier elaborated (in a well-written email) about his reasons for selecting UB:

"Academics: UB is really a great academic institution. I think a lot of people take it for granted because it's practically in their backyard and don't realize how it measures up with the best in many ways.

Coaches/team chemistry: Coach [Reggie] Witherspoon and [assistant Jim] Kwitchoff are great guys. Their passion and intensity seemed a notch above. I have known [former standout and current assistant] Turner Battle for years: he is a great guy and was an amazing player. I am so excited to learn from him. As for chemistry: The UB team is a unit. They like each other, get along well and I just knew that I wanted to be part of them.

Win -- get to the NCAA Tourney. Coach Witherspoon has put together a great roster that has at least three other players of high major playing ability that could play for most any school in the country. Guys like Javon McCrea, Xavier Ford, Will Regan (everyone knows how good a player Will is), Dave Barnett [walk-on from EA] and other great players.

With this roster and the new guys coming in, I believe Buffalo will win the Mid-American Conference and could very well become the next Butler. Really, really excited for this opportunity.

Play: I have a strong passion for basketball and wanted to go to a school where I have a good opportunity to play as a freshman and have impact. I will be working hard as ever this next year and am really looking forward to getting involved with the team as early as I possibly can.

Coach: I am sure that after my playing days are over I want to be an NCAA coach. Coach Witherspoon has offered to take me under his wing, arrange some camps at other schools that I can work and involve me in the coaching process while I am at UB. I can't thank him enough."

Wier's return to EA certainly makes for an intriguing storyline in the ECIC and Section VI, while being the latest local player to commit to UB provides another layer of excitement for Western New York basketball fans. It should be a fun hoops year -- and to think we've got a whole football season to go before that (starting Monday).