Development Workouts
Charlottesville, VA
Tuesdays 6:30-8:30
Charlottesville HS
(March - June)
Starting TBA
Lynchburg, VA
Tuesdays 6:30-8:30
Rustburg HS
(March - June)
Starting TBA
Richmond, VA
Tuesdays 6:30-8:30
Midlothian MS
(March - June)
Starting TBA
Rochester, NY
Tuesdays 6:30-8:30
TBA
(March - June)

Serious players in grades 6-11 are invited to attend. Workouts are free. Click here for directions.
Did You Know?
East Coast Fusion has already helped save players and their families over $10,200,000 in college expenses? Become the next player to earn a scholarship!


It's official, Anderson signs to play with Radford

Fluco Sports Net, by Bryan Rothamel
November 11, 2011 - Surrounded by his mom, uncle and basketball coach with friends and teammates in attendance, Fluvanna senior YaYa Anderson signed his National Letter of Intent to play for Radford University.

"It was a great experience. My teammates really helped me, my coaches did too," said Anderson.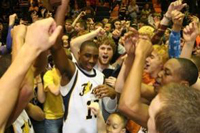 In just a two and a half years high school career (even shorter when you consider a large portion of his sophomore year was canceled because of snow), Anderson has complied 1,134 points, 349 rebounds and 307 assists.

"I'm just proud of the way he's worked in the last two years to become the basketball player that he has. I'm proud of him, he's going to qualify and he's going to have a great chance to go down there and play right away," said Fluvanna head coach Munro Rateau.

Things started early with Radford's first year head coach Mike Jones. Jones and his staff followed Anderson throughout his AAU summer with the East Coast Fusion team. It took a campus visit to get Anderson to finalize his pick with just one meal.

"They had a Papa John's in their lunch room. It was the Papa John's in the lunch room. Everything else was nice, the basketball gym - I love the basketball gym. The scene around it is beautiful but it was ultimately the Papa John's," said Anderson who also was looking at College of Charleston, Liberty, Mount St. Mary's and Duquesne.

It might've taken a meal to seal Anderson while it took just watching the guard play to get Jones to want the player.

"YaYa is a throwback guard who is extremely versatile. He is a terrific scorer with the ability to score in a variety of ways, from behind the 3-point line, penetrating to the basket and everywhere in between. He is also a good passer, a good athlete and a fierce competitor. He has a wonderful, big, supportive family that has molded him into a super young man," said Jones in a release by Radford's athletic department.

The momentous day for Anderson was a big because of his family around. Anderson notes his mother Dorlinda typically keeps a straight face but her son noticed she couldn't hold back a big smile when she watched her son sign for his scholarship.

"My mom was really happy. It was nice to see her really happy. She's really not that [expressive] when it comes to things but this one she was really happy," said a smiling Anderson. "It is nice to see a smile on her face every once in a while."

Rateau has enjoyed the ride with the defending Jefferson District Player of the Year, Region II Div. 3 Player of the Year and Virginia High School Coaches Association Div. 3 co-Player of the Year.

Rateau knew Anderson was special from an early age, he brought him up to the varsity ranks his freshman year. During second half of last season, the 454-win coach started see Anderson go to a whole different level. The AAU season against top notch talent proved what Rateau suspected, Anderson was top level.

"He's just gotten so much bigger since last year at this time. I mean, physically bigger. By playing in the AAU circuit this summer he's taken his game to another level. I knew he was a recruitable at the end of his sophomore year but at that time he wasn't as big as he is now," said Rateau.

Anderson said, "AAU circuit really showed me who was out there, I really had to work. I certainly have a little work to do before I'm ready to play at the college level. I'm just going to work hard this year."

Before Anderson will has a very young, yet promising team surrounding him for his senior year. It will bring one challenge Anderson is looking forward to.

"Be more of a vocal leader. Radford is looking for a leader. that's why I have to develop my leader skills from high school and transfer it over to college. It's going to be a big thing just being a leader and being vocal out there on the court," said Anderson.

Anderson and the Flucos start the season at Goochland on Nov. 29. Fluvanna opens the final campaign in the Shoebox on Dec. 2 as Spotsylvania comes to Palmyra.